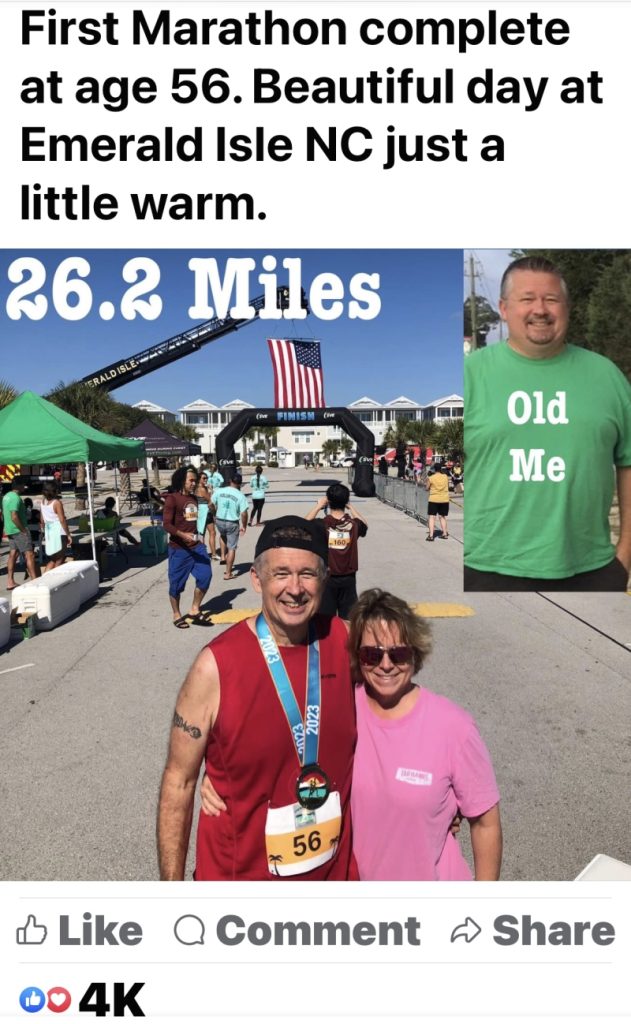 It's OK to share your authentic story. It could change lives.

I had no idea the runners group post ( picture attached ) that I did after Saturday's marathon on 10.28.23 would get so much traction at 4K ( 4,000+ ) likes about 9 days post marathon.

It also has over 200 comments and that's where some of the real magic comes in as seen below:

"…I'm 56 as well, this is very inspiring!!! Enjoy the celebration and incredible accomplishment!"

"…I'm headed for my first full in April at 53. This gives me inspiration!"

"Great job! I was just wondering if I was too old at 55."

As long as I can keep inspiring and getting comments, messages and face-to-face feedback IRL of how my journey has changed someone's life, I'll keep posting selfie images of me and continue sharing my personal story without worrying about things like "Don't post selfies" – "Don't talk about you. Talk about others."

I know 100% that my story has changed many lives.

Personally, I'm inspired by individuals sharing their story as long as it's authentic, helpful or inspirational and not bragging or arrogant. Individual personal stories are my favorite part of social media.

I'm not talking about stories like these:

"Let me show you how to be rich like me." ( Insert picture of Mansion, Yacht and Rolls-Royce )

"Let me show you how to be an internet guru like I am." ( Insert picture of selfie pointing to 500,000 followers )

But these type posts are helpful…

I don't mind that *Karlie Smith posts workout videos of HERSELF not someone else she works with. I find them inspiring. I like seeing *Daniel Intorella videos of HIMSELF stretching and doing kettlebell workouts. I find them inspiring.
*Connections on LinkedIn

On Instagram, I see some of the most amazaing individual stories of anywhere on the internet. So many people overcoming adversity and doing BIG things that scrolling my feed on instagram often brings tears to my eyes on a regular basis.

There's one young man who was paralyzed at 12. He's in his early 20's now. He finishes marathons after being told he would never walk again. Seeing him drop the walking sticks he uses a few feet before the finish line and going across the finish line without them in his video clips never gets old.

If you have an authentic, inspiring story to share, then share it.

Don't worry about the 101 ways to properly feed the algorithm…

YOU DO YOU AND CHANGE LIVES ALONG THE WAY!!!