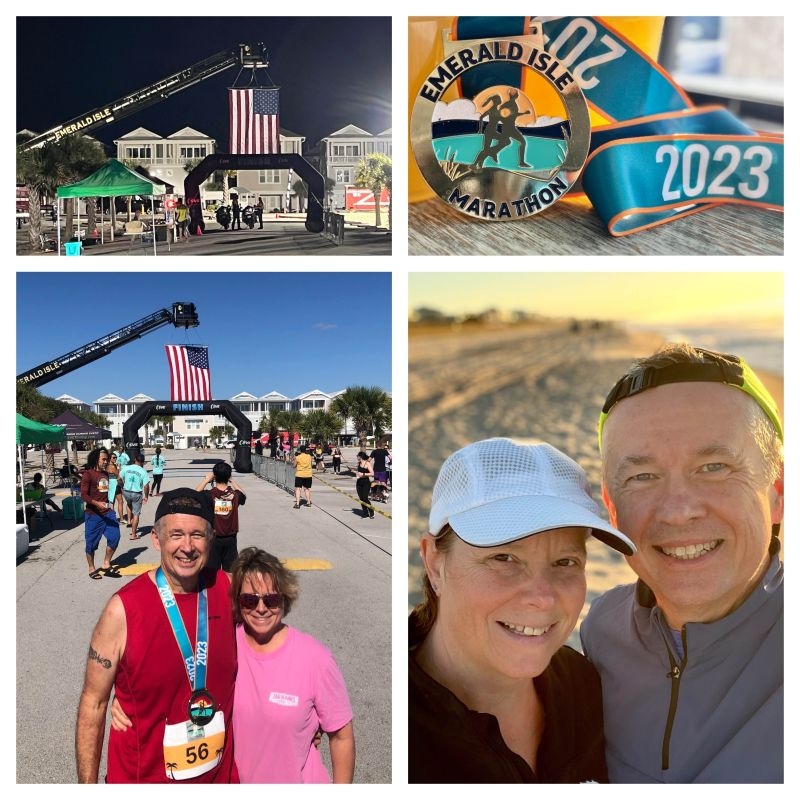 Marathon Complete – Recap, Lessons Learned & What's Next?
1st Marathon Fun Facts:
Age: 56
Bib #: 56
# Steps for the day: 56,859
Calories Burned: 3,100
13.1 Miles: 2H 23M
26.2 Miles: Let's just say that I finished and got the medal ( *more below ).
SURPISED: I'll admit that I signed up for a coastal Marathon in October because I thought that it would be flat and cool. There were a lot of hills and inclines: I was shocked. It was in the 60's at the start ( was hoping for the 50's ) and it was 75 by the time I finished.
This may be TMI, but I'm sharing anyway. My stomach started aching on Wednesday morning. By Friday, I spent all day with a stomach ache and diarrhea. It was not a fun Friday before race day. I was not worried about the race, but something set it off.
Saturday morning, I woke up at 4 a.m. I did stretching, ate foods that I knew would agree with me, did some lite hydration and made sure that all was well with the color of my pee ( important ). After arriving at the race site around 6:30 a.m. for a 7 a.m. start, I didn't do much else but hang out and chill. I had all ready prepared before getting on site.
*A key take away from distance training and the actual race:
*I'm good for 13.1 miles which is a half marathon. I think with some work that I can get the 2H 23M to a 2 hour half marathon pace. However, I start to NOT have fun and no longer enjoy running after 13.1 miles. It becomes more about work. Running is no longer enjoyable for me after 13.1 miles. However, I signed up for 26.2 miles and I did 26.2 miles: I now have a marathon medal. It may be my one and only full marathon medal, but I did something that I set out to do.
Post Run, Overnight & Next AM…
My legs were killing me, but after leg compression therapy at the airbnb, they were much better. Overnight was not a great nights sleep and I hurt when turning over throughout the night. When I got out of bed my shoulders and legs were sore. Today is a day of rest and recovery.
More…
Although the running bug bit me nearly 3 years ago, the marathon bug has not. I currently have ZERO desire to do another full marathon. However, thinking of working on a 2 hour pace for a half marathon is exciting and challenging plus I can enjoy it. The things you do in life should excite you, should challenge you and should be enjoyable or you should not do them.
Next…
Currently I'm signed up for an 8K on Thanksgiving morning, a duathlon ( run, bike, run ) in February, a 1/2 Marathon in Elizabeth City, NC in April and my biggest event in September 2024 is an Ironman 70.3 ( 1.2 Mile Swim, 56 Mile Bike & 13.1 Mile Run ). I plan to add more races in 2024.